Whilst ultimately uplifting and joyous, 'Everyone's Talking about Jamie' does not shy away from dealing with issues of LGBT phobia and neither does it seek to try to gloss over familial disapprobation or rejection – something many of us have experienced in the LGBT community. Steve slack writes…
Until recently I was CEO of an LGBT young people's charity in Sheffield and the most frequent comment I heard was along the lines of 'surely we don't need such charities nowadays, everyone is so accepting'. There's no doubting that things have improved for LGBT people in the past few decades and as well as greater legal protection there is certainly a wider and more positive representation of LGBT people on television, in cinema and theatre, and in the media – but it would be a mistake to think that greater visibility has led to widespread and universal acceptance. Hate crimes relating to sexual orientation and gender identification have increased year on year since 2015 In England, Scotland, and Wales. This past summer alone we have seen the brutal killing of a 50-year-old gay man In London's Tower Hamlets. The man, who suffered fatal head injuries, is believed by police to have been the victim of a brutal homophobic attack – not widely reported in the mainstream media, I might add. The cities of Birmingham, Liverpool, and Edinburgh have all recently witnessed serious assaults on members of their LGBT communities motivated by homophobia and transphobia. In the year to March 2020, sexual orientation hate crimes in the three nations rose by 19% and transgender identity crimes by 16%. The national LGBT campaigning charity Stonewall estimates that these figures are only the tip of the iceberg and suggest that 4 in 5 incidents of LGBT hate crime go unreported.
Whilst ultimately uplifting and joyous, 'Everyone's Talking about Jamie' does not shy away from dealing with issues of LGBT phobia and neither does it seek to try to gloss over familial disapprobation or rejection – something many of us have experienced in the LGBT community. It's also a story about class and working-class lives in an area of social deprivation and the lack of hope most of the young people have who live on a Sheffield housing estate. School bully Dean is top dog in the school environment – a big fish in a small pond – but he knows as well as his peers that when he leaves after the prom he will find himself in some dead-end job on the factory floor with no power. Dean's hatred of Jamie is as much about the fact that the boy who wants to wear a dress to the prom has dreams and aspirations as it is that he is gay. The play also pays homage to the working-class women and older gay men and drag queens who show support and love to Jamie offering affirmation in a way his father is incapable of doing. The role of women in gay men's lives is one not always told but this play leaves us in no doubt about their unconditional love and support and their significance in the lives of many gay men.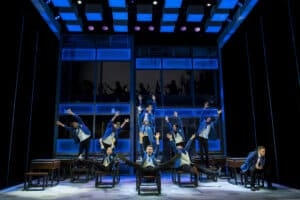 Ultimately 'Everyone's Talking About Jamie' is redemptive and unashamedly sentimental and flamboyant, a fairy tale that makes you leave the theatre smiling and with a skip in your step. The young man in front of me turned to his mum and, choking back tears, said, 'I loved that Mum. I loved that!'
A poignant, well-crafted, joyous, and unforgettable musical score executed perfectly by the cast and orchestra – a particular favourite of mine was 'My Boy' sung exquisitely and seemingly effortlessly by Amy Ellen Richards as Jamie's Mum, Margaret, and there was, as they say, 'not a dry eye in the house'. The acting is universally of a high calibre, sensitive, accomplished, and convincing with particularly strong performances from the principal actors, Layton Williams (Jamie), Shane Richie (Hugo/Loco Chanelle), Shobna Gulati (Ray), and Amy Ellen Richards (Margaret) not forgetting the villains of the piece Lara Denning (Miss Hodge) and George Sampson (Dean Paxton).
Even the most cynical of us need moments of escapism, glitter, and campness and this flamboyant production does not disappoint, ensuring lashings of all of this served up to the audience in impossibly high heels, fancy frocks, and thickly applied eye make-up. Looking at the audience which seemed to be made up predominantly of women and LGBT people it may be preaching to the converted but I'm sure most of us left feeling hopeful, recharged, and ready to fight another day – and everyone talking about Jamie.
Leeds Grand Theatre is shining a Spotlight on the smash hit, critically acclaimed, West End musical, Everybody's Talking About Jamie, until Sunday 7 November 2021; over a year after it was originally scheduled.
Layton Williams stars as Jamie, with Shane Richie (EastEnders, I'm A Celebrity… Get Me Out Of Here) as Hugo/Loco Chanelle, and Shobna Gulati (Coronation Street, Dinnerladies) as Ray; all reprising their roles from the West End production.
Nica Burns, Producer, said: "We are back! The company of Everybody's Talking About Jamie is absolutely delighted to be sharing our fun, funny, and fabulous musical with audiences around the UK. So, dust off your glad rags, put on your heels, and enjoy a fantastic night out. You've waited long enough!"
Premise: Inspired by real-life events, Everybody's Talking About Jamie is the story of Jamie New, a 16-year-old boy who lives on a council estate in Sheffield. But Jamie doesn't quite fit in. Jamie is terrified about the future. Jamie is going to be a sensation. Supported by his brilliant loving mum and surrounded by his friends, Jamie overcomes prejudice, beats the bullies, and steps out of the darkness and into the spotlight.
Everybody's Talking About Jamie is directed by Jonathan Butterell with an original score by lead singer-songwriter of The Feeling Dan Gillespie Sells and book and lyrics by writer Tom MacRae (Doctor Who).
Everybody's Talking About Jamie is at Leeds Grand Theatre from Tue 2 to Sun 7 November 2021
Book online at leedsgrandtheatre.com or call Box Office on 0844 848 2700